Get more life out of your sails by following these simple steps . . .
Avoid Sun Damage

UV rays are damaging to sails. Keep sails out of the sun by using a sail cover. If you have in-mast furling, furl them and make sure the exposed sail is covered with a UV protective patch.

Consider a Re-CutAs sails wear they stretch out and lose their shape. Sails can be re-cut once or twice during their lifetime.
Sail Cleanliness

After each use make sure that your sails are free of salt, dirt and grime. Wash your sails with fresh water often and let them dry.

Sail Inspections

It's important to regularly inspect your sails to look for small holes or tears before they become bigger problems. It's not a bad idea to take your sail to the loft at the end of the season to have it looked over by experts. It is always a good idea to be proactive and fix things instead of replacing them.

Tape or Cover Rigging

Cover turn buckles and sharp edges to prevent tears in your sail. Add spreader patches if needed to prevent unnecessary wear.

Lets Talk Leech

It's important to keep enough tension on the leech so that your sail isn't fluttering at a high speed. Constant fluttering can break down protective coating on your sail and can even cause tears.

Store Your Sails

Make sure you store your sails properly when they are not in use. Whether its off season or you're not sailing for a while you need to take keep your sails safe from the elements. Flaking, folding and bagging sails are the best way to store them. Keep them at home or store them in a sail loft.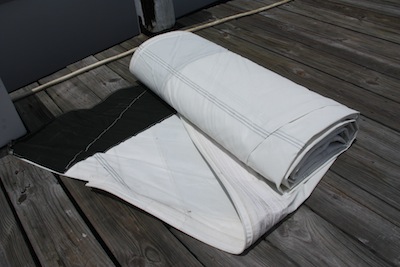 You can keep in touch with Bluenose Yacht Sales by connecting with us on