2002 San Lorenzo 88
Price: US$1,949,000
| | |
| --- | --- |
| Propulsion | Power |
| Type | Motor Yachts, Pilothouse, Flybridge |
| Length | 88' |
| Hull | Fiberglass |
| Engine/Fuel | Diesel |
| Year | 2002 |
| Location | FORT LAUDERDALE, Florida, United States |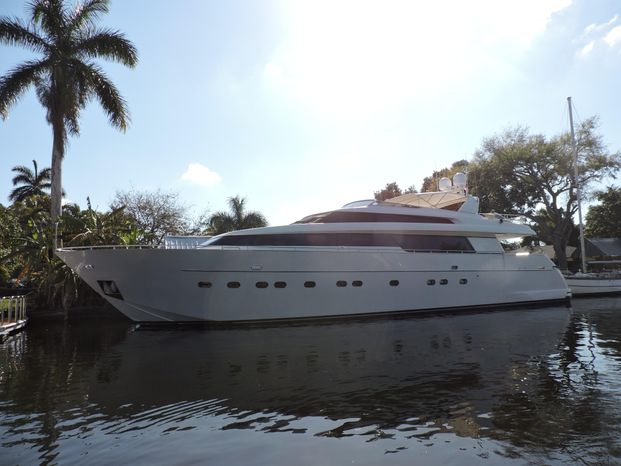 NOT AVAILABLE FOR SALE TO US CITIZENS WHILE IN US WATERS
Owner will consider trades with quality yachts from 2005 and over up to 110 ft.
This beautiful and elegant Motoryacht has just finished a major refit to all of her systems.
She is ready for cruising with her new owner.
2016 refit included:
Navigation Electronics:
New Garmin electronics (check equipment at Electronics section) (July 2016)
New Security and Monitoring Cameras (Sep 2016)
New Ships computer (July 2016)
Bottom work and running gear
New Antifouling and Zincs (Sep 2016)
New Cutlass bearings, (Sep 2016)
Shafts balanced by Straight line and new Shafts packing installed (Sep 2016)
Propellers balanced and set back to Highest Standards S1 (Propscan Sep 2016)
Laser targeting and full alignment of Running Gear by Straight line (Sep 2016)
New PropSpeed at propellers and Shafts (Sep 2016)
Engine Room:
Fully serviced Kohler Generators (Including new injectors), (Aug) 2016
Fully serviced MTU Engines only 2236 hrs. (March) 2016
Fully serviced hydraulics systems (April 2016)
Fully rebuild fire and bilge pump (Sep 2016)
Fully serviced Air condition with settings for North America (June 2016)
New Atlas 45kva System installed in ER (March 2016)
Tecma Toilet system fully serviced, including the Haman Biological treatment system
Hull and Exterior:
Sea Shield 5 steps process Buff and wax (Feb 2017)
New Aft Deck Sun Shade (July 2016)
New paint at blue stripe at superstructure March 2016
New Flybridge Stainless Steel Guard rails at Tender area (March 2016)
Galley
New Miele Dryer (July 2016)
New Miele Dishwasher ( July 2016)
Fully serviced refrigeration system
Interior
Fabric upgrades, includes leather tops, new soft goods, Mattresses.
New TV,s throughout (July 2016)
Newly installed Crew mess TV (Aug 2016)
Full Specs
---
Boat name
INFINITAS
Specs
Make: San Lorenzo
Model: 88
Condition: Used
Dimensions
Range: 2076' 6''
LOA: 88' 0''
Beam: 22' 0''
Maximum Draft: 7' 6''
Electrical Circuit: 220 V
Engines

Make: MTU
Model: 16V2000
Year: 2001
Type: Inboard
Fuel: Diesel
Drive Type: V
Propeller Type: 5 Blade, Bronze
Engine Hours: 2245
Engine Power: 1,800hp
Engine Location: Port
Make: MTU
Model: 16V2000
Year: 2001
Type: Inboard
Fuel: Diesel
Drive Type: V
Propeller Type: 5 Blade, Bronze
Engine Hours: 2247
Engine Power: 1,800hp
Engine Location: Starboard
Tanks
Water Tanks: 1
Water Tank Capacity: 550 gal
Water Tank Material: GRP
Fuel Tanks: 1
Fuel Tank Capacity: 3,200 gal
Fuel Tank Material: Aluminum
Holding Tank Count: 1
Holding Tank Capacity: 120 gal
Holding Tank Material: GRP
Accommodations
Number of single berths: 4
Number of double berths: 2
Number of twin berths: 2
Number of cabins: 4
Number of heads: 7
Other
Drive Type: V
Accommodations
This beautifully appointed Motor Yacht has accommodations for 8 Guests in four spacious staterooms, and 4 crew members in two cabins.
The Owners/Guest cabins:
Master Cabin, VIP Cabin and two Twin Berth Cabins. All with en suite Shower and Toilets.
Crew Cabins:
The Forward Crew Cabins have access from the Galley and each one has it own toilet and a shower.
All Cabins are wired for TV's . Current owner removed all TV's from Lower Deck.
Salon/Dining, Service Access/Stewardess Pantry And Hallway To Owners Staterooms
Entering the Salon through a large slinding Glass door with Stainless steel frame you will find immediately to the stbd the wet bar with a mirror shelf cabinet, hidden behind a door. In the same location is the custom made wine cooler in a custom cabinetry and stainless steel locking door. At the same location and looking forward in a hidden cabinet you will have a Salon LED TV (New in Aug 2016).
At the port side is the Beverage and Alcoholic beverage cabinets with a Scotchman Icemaker. At the same location and looking forward in a hidden cabinet you will find a Book self and the audio surround system.
The L Shape couch provides a very nice warm seating area with assorted pillows and new leather fabrics. All fabrics at the couch and arm chair were replace with new.
The coffee table has a glass top with space bellow for placing items and two drawers.
Two small Ottomans provide extra seating stored nicely next to the coffee table as they are the same height.
The separation Salon/Dining Cabinet is fixed and has storage cabinets. Storage will be found throughout the Salon and Dining.
All the lighting in Salon and Dining is Dimmable.
Looking forward from the Salon/ Dining area at the Port Side you will find a Hall way which is used as the Stewardess Pantry and connects the Dining area with the Galley. The Stewardess pantry has storage cabinets and also a Scotchman Icemaker and Large Beverage Refrigerator. A Watertight door provides access to the port walkaround deck. The Stewardess pantry/Hallway at the bulk head with the Salon/Dining has an In Wall Sliding Privacy Door.
Forward of the Pantry you will find a small hall way that is the vessels Refrigeration area. Two Large Full Height Sub Zero Freezer/Refrigerators are located in that area.
Looking forward to the STBD of the Salon/Dining is another hallway which leads to the Pilothouse and further forward to the staircase for the Owners/Guests Quarters. A Watertight door provides access to the STBD Walkaround deck. The bulkhead that separates the Stbd Hallway with the Salon/Dining is equipped with an In Wall Sliding Privacy Door.
Salon equipment/Audio Visual:
LG LED UHD TV (New Aug 2016)
Sony Blue Ray DVD/Blue Ray player
BOSS Cd/Radio/Surround System with 6 Overhead Speakers
Custom Made San Lorenzo Wine Cooler
Scotchman Icemaker
Dimmable Light Switches for the overhead lights.
Galley/Crew Mess/ Laundry/ Crew Cabins
Continuing the Stewardess Pantry/Refrigeration Hallway walking forward you will find the well appointed Galley and Crew Mess Under counter appliances are the main reason this Galley is spacious for the size of the vessel. Miele Dishwasher, Stainless Steel with Waste Disposal 3 bay sink, Miele Ceramic four burner cook top with a Whirlpool overhead Exhaust fan. A Miele Stove Oven/ Microwave Combo (The Oven at the bottom and the Microwave at the top) completes the Full Galley equipment. Next to the Oven/ Microwave combo is another counter with a SubZero drawers Refrigerator Freezer combo which provide extra freezing space if necessary.
The access door at the port side in the Stewardess Pantry/refrigeration area in the combination with the sliding door at the entry to the Dining provides great ventilation (if necessary) so no cooking odors enters the Salon Area.
At the Stbd side of the same area is the crew seating/meal Area with seating for 4/5 and a newly installed TV with a Blue Ray. A VHF remote handset is mounted at the overhead cabinet of the galley for extra operations/safety communications.
Forward of the Crew mess is an access door for the Stewardess laundry and Storage area. Two full size washer and two full size dryers are in that compartment making easy the quick turnover operation. A set of Whirlpool and a set of Miele appliances.
The Captain and Crew Cabins are down the staircase next to the laundry area, at port and stbd side forward. Upper and lower beds and in cabin Toilets and Shower at each cabin. The captains cabin is equipped with the Smoke Fire Alarm indicators.
Via the closets at the crew cabins you have access to the anchor chain lockers.
Galley Equipment:
Miele oven with pan drawer,
Miele M8261 Microwave
Miele Four Burner Cooktop
Vitamix Blender
Kitchen aid Mixer 5KSM150
Icoenic Toaster
Triple bay stainless Steel Sink with Waste Disposal
InSinkartator Waste Disposal 100-2
Miele Dishwasher G4975SCVIXXL New Sep 2016
Subzero Double Drawer Refrigerator/Freezer 700 BCI-3
Whirpool Extraction Fan
Over counters Lighting
AirCondition vent over Cooktop
SubZero Freezer/Refrigerator 700 TF
Subzero Refrigerator/Freezer 700 TR
Crew Mess:
Kuerig Coffee Maker
LG TV with Sony Blue Ray
Air condition Vent,
Seating for 4 with table
Cabinetry
Laundry/Storage:
Whirpool Side By Side Washer and Dryer "GSense"
Miele Side By Side Washer and Dryer T8722 (New 2016)
Miele Vacuum Cleaner Compact C2
Hoover Air Cordless Vacuum
Stew Pantry:
Leibherr Beverage Refrigerator
Scotchman Icemaker
Access To Owners/Guest Staterooms
Looking forward from the Salon at the Stbd side you will find the Hallway that leads to the Pilothouse, the Staircase to the Owners/ Guest staterooms, the watertight access door to the Stbd Walk around and Galley/Crew area.
Via the comfortable curved staircase you are entering the 4 well appointed Owners and Guest staterooms. Forward is the VIP Cabin, and walking aft at the hallway you reach first the Port and Stbd side Twin Cabins and Master Stateroom.
Master Stateroom/Master Bathroom
Master Stateroom is located aft and almost at the Center of the vessel.
The Master Stateroom has a King size bed with build in Night stands with drawers and reading lights. All the light switches of the stateroom are conveniently located on top of the night stands in each side. Electrical Plugs are also at the same location with the switches.
Another set of switches are right next to the Entry door.
At the Fwd area port and Stbd of the Master, you find the two large Hanging closets.
The Masters Stbd side has build in Cabinetry with a Vanity mirror with lights and a comfortable ottoman seat. Drawers are in each side of the Vanity Mirror. Extra Storage Cabinetry is above the Vanity Mirror at full length of the wall.
The Masters Port side has a build in cabinet with drawers and a very well thought shirt/Suit hanging/Jacket closet.
The Portholes are all easy to access behind the curtains at Port and Stbd and are able to open for fresh air.
Behind the bulkhead of where the master bed is located is the His and Hers walkthrough Bathroom and Toilet. At the Stbd side entry is a Tecma electrical vacuum toilet and a bidet. Single sink Marble counter with medicine mirror cabinet Over the Sink.
At the Port side you have the Marble counter sink, with Medicine mirror cabinet over the sink, and a Tecma Vacuum Toilet.
Between the His and Hers Toilets is a walk through White Marble spacious shower. With access from both sides via smoked glass doors. (Provide also privacy in each side). A rain shower is over head.
Light Switches are located in both side inside the Master Bathroom.
Audio/Visual:
Sony STR DE875 Amplifier/Surround System with 4 speaker
Panasonic DVDRV31
Sony Videocassette recorder
Vip Stateroom
The VIP stateroom is located at the fwd area of the Owner/Guest cabins right next to the curved staircase coming down. The cabin has a Kind size bed with build in night stands with drawers and reading lights. The light switches of the stateroom are also conveniently located on top of the night stands in each side. Electrical Plugs are also at the same location with the switches. A set of Light switches are also next to the entry door.
At the port Side of the Stateroom you see build in cabinetry with drawers and a vanity mirror with lights and a nice ottoman. Over the Vanity mirror cabinetry you have build in storage cabinets for the full length of the wall.
At the Stbd side you have build in cabinetry with drawers and over the counter storage cabinets.
The portholes are all opening. Very nice feature to get fresh air in the cabin:)
Audio/Visual:
Pioneer Radio/CD Player
Panasonic DVDRV31
Stbd And Port Twin Staterooms
Walking aft from the staircase at the stateroom hallway, you will find the entry doors for the STBD and Port Twin Mirror Staterooms.
Each cabin has two Twin beds with build in nightstands and reading lights. The light switches for the overhead lights and reading lights are conveniently located on top of the night stand together with a power plug. Another set of Light switches is located at the entry of each stateroom.
Both beds in both staterooms have double drawers underneath and Custom build in cabinets at the outboard wall of each cabin which provides extra storage.
Able to open Portholes in Each cabin provides fresh air:)
A Hanging closet is located at the outboard side of each cabin just before the entry to their Ensuite Toilet and Shower which decorated with Marble Floors and counters. Each Toilet has exhaust fans, Tecma Electrical Vacuum toilets, Marble Sinks, and vanity mirrors, together with able to open portholes.
Audio/Visual:
Pioneer Cd/Radio
Panasonic DVDRV31
Cabins are wired for installation of TV's (Owner removed the TV's from all the staterooms).
Engine Room/Lazarette
The Vessel has a very spacious and well appointed engine room with easy access to all the serviceable equipment.
Two access point for the areas, one from the Aft Deck Hatch and one via the Watertight door at the Transom.
Entering via the Transom Watertight door you find the Lazarette. In the Lazarette you have the following:
Idromar Watermaker 40gph
Condaria Aircondition 3 chiller fresh water loop with control panel
Dual Gianeschi Air Condition raw water pumps
HAMMAN Waste Water Treatment with control panel
Gianeschi Black Water pump,
Gianeschi Gray water pump
Electrical Switchboard panel 220V/24V
Glendining 100amp 3 phase system
Service batteries
Refrigeration compressor for Icemaker at Salon
Emergency Steering Wheel
BCS Electro hydraulic Steering Pump System
Ocean Led Underwater lights 2010HD
Power pack for Passarelle and Trim Tabs
Emergency fire Pump System
Tecnofire Fire Fighting Suppression System for Engine and Lazarette
Smoke and fire indicator and monitor
Watertight door to ER
Via the Watertight door in the Lazarette you enter the Engine Room:
2 Large capacity intake Fans with pick ups from the upper deck
2 medium size exhaust fans with ducking to main deck port and stbd
2 MTU 16V 2000 M91 1800hp with bilge pick ups
2 ZF Transmissions with 2.536 Ratio Model 2555V
2 Kohler Generator port and stbd aft,
2 Fuel Transfer Pumps with Manifold
2 Gianeschi Fire/Bilge Pumps with suction manifold at all bilge compartments
Reverso Oil Change pump
Corey Camera with Lorex switch
2 Gianeschi fresh water pumps
Flybridge
Flybridge has a double access point, one via a private staircase (Sliding door closes the access at the Flyrbridge from the Aft Deck) and via the PilotStation. Coming up the stairs of the Pilotstation to the Flybridge at the STBD side you have a complete Helmstation, with Engine controls, Tilt and Wheel Steering, 2 VHF , 1 Garmin Radar/Plotter, Bowthruster Control, Trim Tabs controls, Magnetic Compass, Depth Sounder and engine monitoring gauges and alarms.
At the Port Side Wing you will find the Port Side Control Station, with Tilt steering, and bowthruster. Engine Start /Stops buttoms and engine alarm monitoring lights.
A Wet Bar with Refrigerator/Icemaker and Electric Grill is located aft of the flybridge seating area.
The Besenzoni Davit is servicing the Tender Area. Removable Custom Stainless steel rails are surrounding the Tender Area.
Disclaimer
The Company offers the details of this vessel in good faith but cannot guarantee or warrant the accuracy of this information nor warrant the condition of the vessel. A buyer should instruct his agents, or his surveyors, to investigate such details as the buyer desires validated. This vessel is offered subject to prior sale, price change, or withdrawal without notice.
This listing is courtesy of the BoatWizard MLS and may be centrally listed with another broker. It is offered as a convenience by this broker/dealer to its clients and is not intended to convey representation of a particular vessel.