Saffier SE 24ft Light for Sale in New England
Imagine
A sailing yacht which is in full content with the environment of today. An electric propulsion system which is charged 24/7 by the integrated solar panels. A sailing yacht which can be rigged up or down in a blink of an eye. Easily transportable and can be launched off a trailer or hoisted out of the water by a single hoist lifting point.
And last but not least, the ultimate sailing experience, single handed, with family or racing at full speed. Meet the new great looking Saffier Se 24 Lite.
Reverse bow
The reverse bow of the Saffier Se 24 Lite gives the modern and sharp look. With the pointy bow she cuts through the waves like a knife.
Cockpit
A closer look reveals her family character: a large uncluttered cockpit for 6 persons with sundeck and easy acces to the water
Charging at home or in the car
Instruments and lights can be taken off the boat and recharged in your car, back home or with a power bank.
Fully powered by nature
Solar panel charged
With the integrated solar panels the Saffier Se 24 Lite is truly self-supporting. The custom made solar panels are integrated to be one with the design of the boat, creating a clean deck layout and generating enough power to constantly charge the Torqeedo 3.5 kW battery for electric propulsion any time, anywhere. Instruments and lights can be taken off the boat and recharged in your car, back home or with a power bank.
Speed
Sailing fast in a safe way
Ultimate speed, high performance and striking looks is what the new Saffier Se 24 Lite shows at first sight. Sailing in full control, singlehanded with all sheets close at hand and double digits on your rechargeable display. To achieve high speeds she has a modern hull shape with a good form stability. This is achieved by a flat underwater section in the hull and a 2.40 m beam. A lightweight boat is key for performance.
Key features
Driven by nature
High level of sustainability
Super easy to rig up and down
Fast sailing downwind and upwind
A high stability ratio keeping her safe at all times
Large ergonomic cockpit with sundeck
Inside room for 2 persons to sleep
Can be used on oceans, seas and lakes
Single point lifting
Easy to trailer
No compromises in materials
Designed and built by the largest manufacturer worldwide in luxury day- and weekend sailers
Price: Contact us to discuss customizing your Saffier SE 24 Light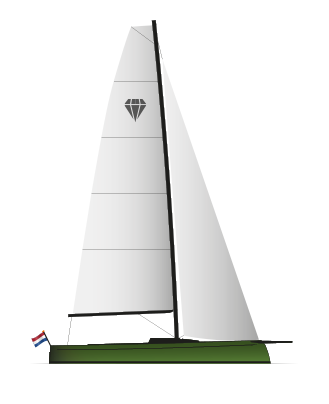 Driven by nature
Designed with speed and safety in mind
Length: 7.10 mtr
Width: 2.40 mtr
Length overall: 8 mtr
Depth standard: 1.30 mtr
Total weight: 1200 kg
Depth shallow: 1.15 mtr
Ballast keel: 450 kg
Depth racekeel: 1.44 mtr
Mainsail: 20 m²
Mastheight above water: 10.50 mtr
Self-tacking jib: 11 m²
Number of spreaders: 1
110% jib: 12.5 m²
Engine: Torqeedo 3.0 POD
Code zero: 41 m²
Certification: CE-certification D
Gennaker: 48 m²
Trailerable: Yes
Total sail area upwind: 33 m²
Number of berths: 2
Hull
The hull is made with gelcoat in a standard color white with black water- and coveline.
Fibreglass reinforced polyester, 7 mm thickness from bow to stern and 15 mm thickness over the keelline. The keel attachment area is reinforced with roving laminate and has four athwartship beams to distribute the keel forces.
Deck
Deck is made with gelcoat in a standard color white.
Deck is a sandwich construction with anti-slip structure on deck and cockpit floor.
On deck there are four retractable mooring cleats mounted to provide a clean deck.
The foredeck contains an anchor well with hatch.
The cockpit locker with hatch provides space to store fenders, mooring lines and other equipment.
The furling system of the jib has been recessed beneath the deck to give a clean look to the rig and maximize the efficiency of the jib.
A track for a self-tacking jib is integrated in the design of the deck
A solar panel system to charge your battery is integrated in deck as well.
Cockpit
Very spacious and ergonomic cockpit with sufficient room for six people.
All sheets, halyards, reefing lines and kicking strap can be operated by the helmsman alone.
Integrated boxes to store halyards and other lines are integrated into the cockpit design.
A traveler for the mainsheet is integrated in the sunbathing deck.
The entrance hatch to the cabin has a comfortable size for entry and exit.
Interior
There is sufficient room for two people to sleep and storing of sailing gear, food, etc.
A rechargeable light is placed in the ceiling. A possible rechargeable fridge can be installed to the boat as well.
Propulsion
Electric Torqeedo Pod 3.0 FP Cruise with throttle, folding propellor and 24-3500 lithium battery.
Integrated solar system to charge the Torqeedo battery.
A shore power* charge system can be added.
Keel and Rudder
The keel is a solid lead, modern-shaped race keel with bulb.
A balanced deep spade rudder with Cobra tiller and tiller extension. Shaft is stainless steel and laminated into the rudder.
Rigging
Mast, spreaders and boom are made of black anodize aluminum.
Mast can be lowered without a crane.
All fittings and shrouds are made of high-quality stainless steel.
The boom is equipped with one reef line and kicking strap.
Reef line and kicking strap trim lines are directed towards the cockpit.
All halyards run through the mast.
All shrouds are made of stainless-steel wire with turnbuckles.
A furling system for jib is fitted below deck.
Single Point Lifting
A single point lifting system can be added, to lift the boat with one line in and out of water.
Technical Equipment
All valves, seacocks, hoses and piping have been approved according to ISO and CE standards.
Extras
Manual bilgepump
4x fenders black
4x mooring lines black