2008 Hatteras
Price: US$1,999,000
| | |
| --- | --- |
| Propulsion | Power |
| Type | Motor Yachts |
| Length | 72' |
| Hull | Fiberglass |
| Engine/Fuel | Diesel |
| Year | 2008 |
| Location | Ft Lauderdale, Florida, United States |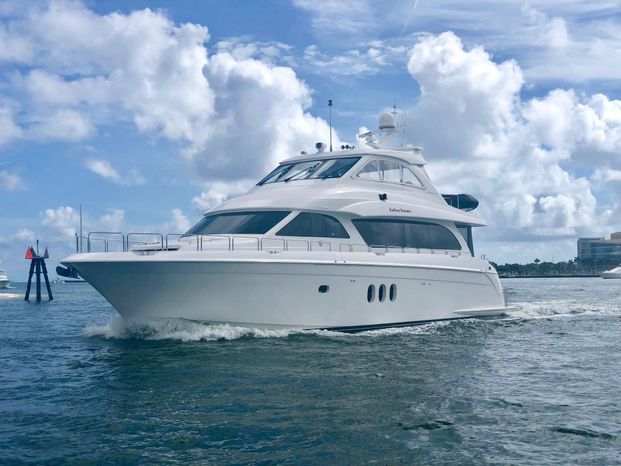 The 72 Hatteras Motor Yacht "Endless Summer" features traditional exterior lines with subtle contemporary styling cues for an overall effect that fits into today's marketplace while easily standing the test of time. This unique model features a wider salon than comparable motor yachts on the market, yet it still retains side-deck access that makes the 72 Motor Yacht perfect for the owner/operator.
Down below, Endless Summer boasts a full-beam master stateroom with the his-and-hers head option, along with two luxurious guest rooms - and a custom built study.
A clever aft arrangement can be used as either a crew area or as a fourth guest room, creating a truly unique vessel in its size range.
Endless Summer features a resin-infused hull, rather than one built up of layers of hand-laid fiberglass. The automated resin-infusion process produces a more uniform hull thickness from one hull to the next, as well as the most ideal glass-to-resin ratio. This one-two punch produces a boat that weighs significantly less because of the lowered resin content, while providing a more precise fit of bulkheads, stringers and other components for increased strength and durability. In the salon, a large settee with chaise lounge offers storage and seating, along with a comfortable view of the 42-inch plasma TV, which is perfectly angled toward the sofa. A formal dining table to port seats six comfortably. One step up to the galley, features a day head to starboard.
Forward of the galley, you will find a large, country kitchen-style dinette with stone countertop for casual dining. For easy access to and from the boat, the Endless Summer provides port and starboard access doors on either side of the galley.
The owners of Endless Summer have decided to sell their very customized yacht, to pursuit another custom build
Siginificant Options:
Full Specs
---
Boat name
ENDLESS SUMMER
Specs
Make: Hatteras
Model: 72 Motor Yacht
Condition: Used
Has Hull ID: Yes
Boat Hull ID: 72MY405
Tax Status: Paid
Dimensions
LOA: 72' 0''
Beam: 22' 0''
Maximum Draft: 9' 0''
Dry Weight: 160000.0 lbs
Electrical Circuit: 240 V
Engines

Make: Caterpillar
Model: C32
Type: Inboard
Fuel: Diesel
Engine Hours: 2944
Engine Power: 1,550hp
Make: Caterpillar
Model: C32
Type: Inboard
Fuel: Diesel
Engine Hours: 2944
Engine Power: 1,550hp
Tanks
Water Tanks: 1
Water Tank Capacity: 300 gal
Water Tank Material: GRP
Fuel Tanks: 1
Fuel Tank Capacity: 2,200 gal
Fuel Tank Material: GRP
Holding Tank Count: 1
Holding Tank Capacity: 350 gal
Holding Tank Material: GRP
Other
Windlass Type: Hydraulic
Trim Tabs: Yes
Number of stock: 114914
Siginificant Options:
TRAC STABILZERS
BOW STERN THRUSTER ( HYDRAULIC) UPGRADE
UPGRADED DAVIT 1500 LB HYDRAULIC
DOUBLE GRILL ON BRIDGE
(2) 100 AMP RETRACTABLE SHORECORDS AFT FORWARD
TEAK AFT DECK, TEAK STEPS TO BRIDGE, TEAK STEPS TO SWIM PLATFORM TEAK BRIDGE
WATERMAKER
INSTALL 3" WIDE BEVELED PLANKS IN STAIRWELL GOING FORWARD FROM OPTIONAL PILOTHOUSE TO SLEEPING QUARTERS FORWARD. DO NOT INSTALL TOUCH LATCHES ON DOORS. INSTALL PUSH/PULL STYLE LATCHES.
UNDERWATER LIGHTS
TEAK WOOD FLOORS IN SALON
YACHT CONTROLLER OF BOW STERN THRUSTERS, AND WINDLASS
Engine Warranty
Marine engines are covered under a 48 month, 2000 hour, $0 deductible Advantage Platinum Plus Extended Service Coverage (ESC) policy. It will expire on 6/11/2019 or at 3,685 engine hours, whichever comes first.
Arrangement Description:
LOWER:
Four Staterooms / Three Head Selection with His and Hers Head option. The Port Stateroom custom built office arrangement
UPPER:
Galley with Forward Lounge / Dinnette
Day Head
AFT:
Aft Vip / Crew Quarters
Aft Deck Custom Features:
ADDITIONAL FRESHWATER OUTLET
TRANSOM HOOP RAILS
20" LCD TV FOLD DOWN, OVER HEAD
TEAK AFT DECK
TEAK STEPS TO BRIDGE
TEAK STEPS TO SWIM PLATFORM
TEAK BRIDGE
AFT DECK SIDE GATES
Salon:
FURNISH AND INSTALL EXTRA LIGHTING OVERHEAD AND INCORPORATE DUAL FLOOD FIXTURES (CANTILUPI) FARO-Q (4 EACH) IN STRATEGIC LOCATIONS IN SALON. SEE REVISED ELECTRICAL PLAN.
INCORPOATE SHALLOW STORAGE CAIBNET INSET INTO PORT FORWARD SALON STUDWALL.
FURNISH AND INSTALL CUSTOM OVERHEAD CEILING TREATMENT IN SALON OVER THE DINING TABLE. AREA TO BE ROUND (APPROXIMATELY 60 INCHES) AND RECESSED (APPROXIMATELY 4 INCHES OR AS DEEP AS POSSIBLE) WITH TRIPLE BULLNOSE MOLDING SIMILAR TO THE 80MY. MOLDING TO HAVE ROPE LIGHTING BEHIND IT. CENTER OF RECESSED SPACE TO HAVE SECTIONS OF CLEAR PLEXIGLASS MIRROR WITH A CHANDELIER MOUNTED IN CENTER.
REPLACE STANDARD CROWN MOLDING IN THE SALON PORT AND STARBOARD AND ON THE MASTER STATEROOM AIR CONDITIONING SOFFITT OVER THE BERTH TO A TRIPLE BULLNOSE DESIGN SIMILAR TO THE 80MY MOLDING.
FURNISH AND INSTALL A SMALL RECESSED CABINET IN THE FORE AND AFT BULKHEAD ABOVE THE AIR CONDITIONING CABINET TO STARBOARD AND AFT IN THE SALON WITH A SINGLE DOOR AND 2 ADJUSTABLE SHELVES INSIDE. MAXIMIZE DEPRTH OF CABINET ALL POSSIBLE WITHOUT INTERFERRING WITH AIR CONDITIONING DUCT OUTBOARD. REQUESTED DIMENSIONS ARE 14 INCHES WIDE, 30 INCHES TALL AND 10 INCHES DEEP. INSTALL A SINGLE DUPLEX 120 VAC OUTLET INSIDE OF THE CABINET.
MODIFY CONSTRUCTION OF CABINETS OUTBOARD OF SALON BAR IN STUD WALL TO MINIMIZE WIDTH OF AND ADD TO NUMBER OF DOORS AND CREATE MORE OPEN SPACE FOR ACCESS BEHIND BAR WITH DOORS OPEN.
REMOVE PORT SIDE TIDE-RIDE SEA STAIR STORAGE RECESS IN SUPERSTRUCTURE SIDE AND HEAL OVER OPENING. CONSTRUCT CABINETS ON THE INTERIOR OF THE SALON IN THIS AREA AS A CONTINUATION OF THE AFT PORT SIDE SALON CABINETS. SEA STAIRS TO STORE IN REMAINING RECESS ON STARBOARD SIDE.
INCREASE THE WIDTH OF THE TOP OF THE STARBOARD SIDE AFT AIR CONDITIONING END TABLE CABINET IN THE SALON BY APPROXIMATELY 6 INCHES AND FORM OPEN SLIDE IN MAGAZINE-BOOK STORAGE ACCESSIBLE FROM INBOARD SIDE OF CABINET. INSTALL FALSE BACK IN RACK TO PREVENT BOOKS OR MAGAZINES FROM GETTING LOST IN BACK OF OPENING.
THE END TABLE AIR CONDITIONING CABINET STARBOARD AFT IN THE SALON IS TO HAVE A WOOD TOP WITH STANDARD MOLDING.
DINING TABLE -- (A.J. ORGINALS) 54" ROUND; SELF STORED LEAF IN PEDESTAL OPENING ONE WAY TOWARD CENTER OF BOAT ONLY; MAHOGANY STRAIGHT GRAIN PERIMETER WITH 1/4" BLACK INLAY WITH CROTCHED MAHOGANY STARBURST MITERED WITH GRAIN, GRAIN DIRECTION TO THE CENTER. PEDESTAL TO BE STRAIGHT GRAIN MAHOGANY.
Sunken Bar Features:
SUB ZERO WINE COOLER
SUNKEN BAR WITH 3 CHAIRS
SUNKEN BAR IN SALON TO CHANGE TOP SHAPE AND BUILD SHORTER PER DRAWING. INSTALL 9" GEMINI STAINLESS STEEL BAR SINK AND STANDARD FAUCET. INSTALL 15" WIDE WINE COOLER IN LIEU OF STANDARD ICEMAKER. GLASS AND BOTTLE STORAGE BELOW BAR. UPPER BAR TOP HEIGHT TO BE RAISED SO THAT THERE IS JUST ENOUGH SPACE FOR RECEPTACLES AND A SWITCH INSTALLED HORIZONTALLY ON THE FACE BETWEEN THE LOWER AND UPPER BAR SURFACES. RELOCATE STANDARD BAR RECEPTACLE FROM BULKHEAD AFT OF BAR TO FACE BETWEEN BAR TOPS AND INSTALLED (2) ADDITIONAL RECEPTACLES SPACED EVENLY, ONE AFT, ONE FORWARD AND ONE IN THE MIDDLE. THE BAR LIGHT SWITCH ADJACENT TO THE MOST FORWARD RECEPTACLE. CONSTRUCT A SHALLOW UTENSIL DRAWER INCORPORATED IN BAR.
HOLDING TANK GAUGE PROVIDED SHOWING AVAILABLE CAPACITY FOR HOLDING TANK ONLY. (HEADHUNTER) LED STYLE UNIT INSTALLED WITH DISPLAY LOCATED IN STAIRWELL AFT OF SALON BAR, INBOARD SIDE AT APPROXIMATE EYE LEVEL. ALSO A HOLDING TANK PUMP OUT SWITCH AT THIS LOCATION.
SALON BAR FLOORING (AMERICAN TILE) 12" X 12" BLACK GALAXY WITH 2" KEY TILES OF (AMERICAN TILE) MASCARELLO
Day Head:
Plexi Mirrored Ceiling
DAY HEAD FLOORING INSTALLED BY (AMERICAN TILE) MW05326-C TIGRIS MESH 011-52.
DAY HEAD COUNTERTOP (AMERICAN TILE) NERO PORTORRO WITH BULLNOSE EDGE.
DAY HEAD SINK (HERBEAU FROM DORNBRACHT) 4301 SEINE OVAL BOW IN FINISH 65, HAMMERED POLISHED NICKEL; UNDERMOUNT.
DAY HEAD PASSAGEWAY DOOR, OUTSIDE ONLY, SKETCHED FACE OF STRAIGHT GRAIN MAHOGANY AROUND PERIMETER WITH 1/4" INLAY OF BLACK WITH "X" MITERED BOOKMATCHED CENTER IN MAPPA BURL
Galley:
SOAP DISPENSER, GALLEY SINK
GALLEY HAS A 36" SUBZERO SIDE BY SIDE REFRIGERATOR FREEZER IN LIEU OF STANDARD 42" UNIT. WIDTH OF SLIDE OUT PANTRY ACCORDINGLY. TALL STORAGE LOCKER (BROOM CLOSET) FORWARD OF REFRIGERATOR
GALLEY ISLAND AND A 27" WIDE SUB ZERO DRAWER STYLE REFRIGERATOR IN THE AFT SECTION OPENING TO PORT AND A ROLL OUT TRASH BIN FORWARD. ROLL OUT FOR TRASH BIN TO ACCOMODATE AS LARGE A GARBAGE CAN AS POSSIBLE. A SMALL DRAWER ABOVE THE TRASH BIN SLIDE OUT. CONSTRUCT A MAGAZINE RACK ON THE FRONT OF THE ISLAND CABINET.
FURNISH AND INSTALL A DOUBLE DRAWER KITCHENAID DISHWASHER FORWARD OF THE SINK IN THE GALLEY, MODEL KUDD01DPPA .
FLORESCENT LIGHTING UNDER CABINETS TO PROVIDE SUFFICIENT WORK SURFACE LIGHT IN GALLEY. LED UNDER CABINETS TO BE INTERSPERSED TO PROVIDE SEPARATELY SWITCHED "MOOD" LIGHTING. INSTALL WOOD TRIM AROUND FLOURSCENTS TO HIDE FIXTURE. ORDER AND INSTALL A 12" FIXTURE FOR FORWARD GALLEY CABINET.
OMIT STANDARD DINETTE FORWARD OF GALLEY AREA. CUSTOM ARRANGEMENT TO INCLUDE TABLE MOUNTED ON PEDESTAL WITH DINETTE SEATING FORWARD AND SPACE FOR LOOSE CHAIRS AFT. CONSTRUCT STORAGE ON BOTH PORT AND STARBOARD SIDES OF TABLE AREA. PORT SIDE STORAGE TO HAVE LARGE DRAWERS WITH SIDE CUT OUTS FOR POTS AND PANS AND OTHER LARGE ITEMS. SEE CUSTOM DRAWING.
OMIT STANDARD COOKTOP AND MICROWAVE. INSTALL A (SHARP) INSIGHT COMBINATION RANGE WITH COOKTOP, MICROWAVE DRAWER AND OVEN, MODEL KB 4425 LS (STAINLESS STEEL). INSTALL A (SHARP) SPACE SAVING HOOD ARRANGEMENT OVER THE COOKTOP, MODEL KB 0333 KS (STAINLESS STEEL). INSTALL A SMALL CABINET OVER THE HOOD.
MAXIMIZE THE STORAGE IN THE PORT AFT CORNER OF THE GALLEY BASE CABINET TO TAKE ADVANTAGE OF ANY AVAILABLE SPACE NOT BEING TAKEN UP BY THE PORT FORWARD SALON AIR CONDITIONING UNIT. DELETE SLIDE OUT SPICE DRAWER AND INCORPORATE A LAZY SUSAN IN THE REMIANING SPACE COMBINED WITH SPACE FORWARD OF AIR HANDLER.
FABRICATE AND INSTALL A CEILING CABINET OVER THE GALLEY ISLAND. CABINET TO DROP DOWN FROM HEADLINER APPROXIMATELY 20 INCHES AND HAVE 18 INCH DOORS ON BOTH PORT AND STARBOARD SIDES. CABINET TO HAVE DOWN LIGHTS ON BOTTOM AND 120 VAC RECEPTACLE. DIMENSIONS TO BE 4 INCHES LESS THAN ISLAND CABINET ALL AROUND. NOTE ISLAND BASE CABINET IS CUSTOM SIZED. MODIFY OVERHEAD AIR CONDITIONING RETURN AIR TO A RECTANGULAR OPENING ADJACENT TO CABINET IN LIEU OF STANDARD OPENING. CABINET WILL BE USED FOR CHINA STORAGE. ALSO INCLUDE AN UNDER COUNTER FLUORESCENT LIGHT FIXTURE ON BOTTOM OF CABINET WITH WOOD TRIM AROUND TO HIDE FIXTURE.
OMIT SLIDE OUT SPICE RACK ADJACENT TO RANGE AND REPLACE WITH A BANK OF NARROW DEEP DRAWERS WITH FULL EXTENSION SLIDES.
MODIFY OPENING IN FORWARD DINETTE AREA TO MAXIMIZE THE OPENING FOR ACCESS INTO THE MACHINERY-ELECTRICAL SPACE UNDER THE WINDSHIELDS.
5 REFRIGERATORS IN TOTAL: 3 GALLEY ( 1 FULL SIZE, 2 DRAWERS), 1 CREW FRIDGE, 1 HELM FRIDGE
Master Stateroom:
UPGRADED HMC MATTERAS
MATTERAS PAD
RELOCATE TV IN MASTER TO PORT FORWARD CORNER. UTILIZE A 26" SHARP TV IN LIEU OF A 20" TV
MODIFY STARBOARD FORWARD HALF OF DRESSER IN STATEROOM TO FORM A HINGE LID OVER A DESK AREA AND CONSRUCT FILE STORAGE BELOW. INSTALL A 120 VAC OUTLET INSIDE OF DESK AREA.
MASTER STATEROOM BED TO BE NORMAL KING NOT TAPERED SO THAT A STANDARD KING MATTRESS WILL FIT. ADJUST NIGHTSTANDS ACCORDINGLY. STANDARD KING DIMENSIONS ARE 76" WIDE X 80" LONG. ADJUST PLATFORM ACCORDINGLY FOR SPACE FOR COVERS, ETC.
MASTER HEAD DOORS (2) FACING STATEROOM ONLY TO HAVE SKETCHED FACE OF STRAIGHT GRAIN MAHOGANY AROUND PERIMETER WITH 1/4" INLAY OF BLACK WITH "X" MITERED BOOKMATCHED CENTER IN MAPPA BURL. ALSO INCLUDED ARE THE OFFICE ENTRY POCKET DOOR, THE MASTER ENTRY POCKET DOOR AND THE STARBOARD STATEROOM ENTRY DOOR. THE OFFICE AND STARBOARD ENTRY DOORS ARE TO HAVE THE SIDE FACING INTO THE COMPANIONWAY IN SKETCH FACE AND THE MASTER ENTRY DOOR SIDE FACING INTO THE OFFICE IS TO BE SKETCH FACE. ALL THE SAME WITH MAHOGANY AND MAPPA BURL.
FURNISH AND INSTALL A GUN SAFE UNDER THE MASTER STATEROOM BERTH RECESSED AS FAR INTO THE DECK UNDER THE BERTH AS POSSIBLE. UTILIZE SAME SAFE AS ON 77C
CONSTRUCT RADIUS CORNERS OVER NIGHTSTANDS IN MASTER STATEROOM WITH FINISHED WOOD VERSUS LUAN AND CONTINUE FINISHED WOOD ACROSS ENTIRE BULKHEAD, HULLSIDE TO HULLSIDE.
FURNISH AND INSTALL A TRIPLE BULLNOSE MOLDING AROUND THE PERIMETER OF THE RAISED CEILING PORTION OF THE OVERHEAD IN THE FORWARD SECTION OF THE MASTER STATEROOM
Master Head: His Her Arrangement
PLEXI MIRRORED CEILING
INSTALL (3) BODY WASH SHOWER HEADS IN ADDITION TO STANDARD IN MASTER SHOWER. CONVERT MASTER SHOWER PLUMBLING DIRECTLY TO TRUNK LINES WITH VALVES INSTEAD OF MONO BLOCK. BODY WASH HEADS TO HAVE INDIVIDUAL CONTROL. SEE ALSO ITEMS 170 AND 259.
MASTER HEAD FLOORING TO BE -- OPTION 1 - TO BE (AMERICAN TILE) INSTALLATION OF (RENAISSANCE TILE AND BATH) BASKETWEAVE RENNADMOS WOVEN PW/MB IN 12 X 12 IN STATUARY WITH ACCENT KEYS OF BLACK.
MASTER HIS AND HER HEAD COUNTERTOPS TO BE (AMERICAN TILE) EGEO ONDULATO WITH BULLNOSE EDGE.
Port Stateroom / Office:
PORTLIGHT WITH WINDOW TREATMENT AND VALANCE
MODIFY PORT STATEROOM TO FORM OFFICE WITH DESK OUTBOARD AGAINST HULLSIDE, RELOCATE ENTRY DOOR FURTHER AFT AND INSTALL A POCKET DOOR IN LIEU OF HINGED. DOOR TO BE MAXIMUM SIZE OF 35". MODIFY CONSTRUCTION BULKHEAD BETWEEN MASTER STATEROOM AND GUEST STATEROOM TO RELOCATE MASTER STATEROOM ENTRANCE FURTHER TO PORT AND CONSTRUCT HANGING LOCKER IN REMAINING SPACE. ENTRANCE DOOR TO MASTER TO BE POCKET DOOR AND WILL BE 32" WIDE. OFFICE DESK TO HAVE PENCIL DRAWER IN CENTER AND STORAGE FILE DRAWER ON EITHER SIDE. DO NOT INSTALL DOOR FROM PORT STATEROOM INTO PORT FORWARD HEAD. ACCESS TO HEAD TO BE FROM COMPANIONWAY ONLY. OFFICE FURNITURE TO BE ANGLED SOFA AND OTTOMAN. SEE SEPERATE ITEM FOR SPECIFICATIONS AND PRICING FOR LOOSE FURNITURE. SEE DRAWING. ROUTE EXTRA 120 VAC RECEPTACLES AND INSTALL EXTRA LIGHTS AS REQUESTED BY OWNER. INSTALL AT LEAST 2 ADDITIONAL LIGHTS OVER SOFA
ALL WALLS AND HULSIDING IN CUSTOM OFFICE TO BE FINISHED WOOD IN LIEU OF WHISPER WALL
IN ADDITION TO SHELF KEEPERS ON THE SHELVES IN THE OFFICE, ALSO PROVIDE REMOVABLE SEA RAILS THAT ARE ADJUSTABLE WITH SHELVES. RAILS TO BE THIN STRIPS OF WOOD WITH SLOTS CUT SO THEY CAN BE INSERTED AND REMOVED AS SHELVES ARE ADJUSTED.
Port Head:
PLEXI MIRRORED CEILING
PORT GUEST HEAD COUNTERTOP TO BE (AMERICAN TILE) ROYAL ONYX WITH BULLNOSE EDGE.
PORT GUEST HEAD FLOORING TO BE (AMERICAN TILE) HONEY ONYX MOSAIC WITH 2" KEYS OF COUNTERTOP (AMERICAN TILE) ROYAL ONYX. AMERICAN TILE TO CUT OUT (4) OF THE MOSAICS TO ALLOW FOR 2" KEYS.
Starboard Stateroom:
MODIFY LOWER BERTH IN OPTIONAL STARBOARD SIDE BUNK ROOM AND INSTALL A LARGE DRAWER ON HEAVY DUTY FULL EXTENSION SLIDES IN LIEU OF A LIFT UP ACCESS TO STORAGE.
INSTALL A SMALL SHELF ADJACENT TO EACH BUNK IN THE STARBOARD OPTIONAL FOURTH STATEROOM FOR PERSONAL ITEMS.
Bow Stateroom:
UPGRADED HMC MATTRESS
CONSTRUCT BOW STATEROOM PORT HANGING LOCKER WITH HALF HEIGHT HANGING AND INSTALL 2 SHELVES BELOW FOR LAUNDRY AND SHOE STORAGE. HANGING BAR TO BE TELESCOPIC CENTERED IN OPENING. INSTALL UPPER SHELF TO SUPPORT HANGING BAR. ORDER AND INSTALL (HAFELE) WARDROBE RAIL WITH PLASTIC RUNNER, 10 1/4" WITH 17.5 LB. LOAD CAPACITY. MANUFACTURER NUMBER 805.01.702. NICKEL PLATED
Bow Head:
Plexi Mirrored Ceiling
BOW GUEST HEAD COUNTERTOP TO BE (AMERICAN TILE) ALABASTER ONYX WITH BULLNOSE EDGE.BOW S/R /HEAD - GUEST
Navigation Electronics:
FURUNO NAVNET 3D (2 SCREENS) CHARTPLOTTER
FURUNO 72 MILE RADAR
NOBLETEC PC PLOTTER
(4)VEI MONITORS
VEI SSIR LCD CONTROL PANEL
VEI MOUSE
FURUNO RD-30
SIMRAD AP50 AUTOPILOT
CARLISLE FINCH NIGHT VISION
(2) UNIDEN VHF UM625C
SIMRAD RI35 RUDDER POSITION INDICATOR
FLOSCAN
Bridge Features
CROWN LTD HELM SEATS
CROWN LTD BAR STOOLS
MARVEL REFRIGERATOR
WET BAR
TEAK DECKS
UPGRADED BRIDGE AIR CONDITIONING
DOUBLE GRILL
INTERGRATED HARDTOP WITH FIXED FORWARD WINDSHIELD, WINDSHIELD WIPERS AND WASHERS, OPEN SIDES AND AFT
EZ2CY PANELS PORT AND STARBOARD
STRATAGLASS ENCLOSURE ACROSS AFT SECTION
FURNISH AND INSTALL A (MARVEL) MODEL 60BAR-SS-F STAINLESS STEEL REFRIGERATOR TO STARBOARD ON THE FLYING BRIDGE IN A SIMPLE FIBERGLASS CABINET WITH A STONE TOP. SEE CUSTOM ITEM 212 FOR TOP SPECIFICATIONS. UNIT TO FACE INBOARD. UNIT IS APPROVED FOR OUTDOOR INSTALLATIONS AND THERE WILL BE NO DOOR OVER THE FRONT OF THE UNIT. CONSTRUCT FIBERGLASS CABINET ACCORDINGLY. UNIT TO HAVE HINGE ON THE LEFT SIDE (FORWARD).
FURNISH AND INSTALL A CHART STORAGE BOX, SURFACE MOUNTED, TO PORT OF THE FLYING BRIDGE HELM APPROXIMATELY 2" DEEP WITH DOUBLE PLEXIGLASS LIDS WITH A 1/2" SPACER BETWEEN FOR A CHART BOOK. INSTALL A PNEUMATIC SPRING ON THE BOTTOM LID.
FURNISH AND INSTALL AN APPROXIMATE 6 FOOT SECTION OF LOUNGE SEATING AFT OF THE FLYING BRIDGE ON THE BOAT DECK WITH HALF-ROUND END TABLES ON EACH END, SAME AS 72MY203.
SOLID SURFACE MATERIAL ON END TABLES TO BE (AVONITE) CAIRO F1-9130 SATIN WITH BULLNOSE EDGE.
YACHT CONTROLLER OF BOW STERN THRUSTERS, AND WINDLASS
Helm Features:
BOW STERN THRUSTERS
YACHT CONTROLLER
BACKUP CAT CONTROLS
TRAC STABILIZERS
FLO SCAN FUEL MONITORING
NIGHT VISION
FUSION STEREO AND SPEAKERS
REDUNDANT ELECTRONICS
Aft Stateroom Vip / Crew:
UPGRADED HMC MATTERAS
MATTERAS PAD
FURNISH AND INSTALL A DORM SIZED REFRIGERATOR IN THE AREA OUTBOARD OF THE STAIRS FROM THE SALON TO THE AFT VIP STATEROOM. SEE SHAWN. SPECIFICATIONS FOR UNIT TO BE (HAIER) 1.8 CU FT. NO FROST ALL REFRIGERATOR- WHITE.
CUSTOM READING AREA
CUSTOM ARRANGEMENT
Engine Room:
AIR CONDITIONING BACK UP SEA WATER PUMP, PLUMBED AND WIRED
FURNISH AND INSTALL A SHELF OVER THE WATER HEATER TO PORT IN THE ENGINE ROOM FOR OWNER FURNISHED TOOL BOX. CONSTRUCT SHELF AS WIDE AND AS DEEP AS POSSIBLE. ALSO INCLUDE A 6" WIDE FOLD UP SHELF ON THE INBOARD EDGE OF THE SHELF. SEE DRAWING NMD 2285.
FURNISH AND INSTALL A FRESH OIL TANK IN THE ENGINE ROOM PLUMBED TO THE OIL CHANGE SYSTEM. PROVIDE DRAWING FOR CUSTOMERS REVIEW. TANK SHOULD HAVE A DOCKSIDE FILL AS WELL AS THE CAPACITY TO BE FILLED VIA A QUICK DISCONNECT AT THE TRANSOM. FILL TANK WITH 55 GALLONS OF CF-4 15W-40 CAT OIL.
FURNISH AND INSTALL A DC FRESH WATER BACK UP PUMP IN ENGINE ROOM. REMOVE AC PUMP AND REPLACE WITH DC.
GREGORY POOLE POWER SYSTEMS TO FURNISH MANUAL GAUGES FOR ENGINES IN ENGINE ROOM.
FURNISH AND INSTALL ADDITIONAL RAIL IN THE OVERHEAD FORWARD OF EACH ENGINE SIMILAR TO THE FORE AND AFT RAIL THAT IS STANDARD. RAILS TO CONTINUE OUTBOARD BEYOND EDGE OF ENGINE. (P/NS 2EA 93579C, 2EA 14727 AND 78125)
FURNISH AND INSTALL (2) EACH UNDERWATER LIGHTS BY (UNDERWATER LIGHTS, LTD) IN TRANSOM.
GP LINK MONITORING SYSTEM
ENGINE ROOM CAMERA'S
Electrical Uprades Options:
2 100 AMP RETRACTABLE CORDS FORE AFT
CAT GENERATORS IN LIEU OF STANDARD
YACHT CONTROLLER OF BOW STERN THRUSTERS, AND WINDLASS
Foredeck:
SUNPAD AND COVER
BUSTLE HOOP RAILS INCREASED IN HEIGHT BY 5 INCHES.
SIDE DECK HOOP RAILS MAINTAINED AT 36 INCHES FROM DECK.
RAILS AT STAIRS FROM AFT DECK TO SWIMPLATFORM RAISED 3 INCHES.
RAILS ON FLYING BRIDGE RAISED TO 36 INCHES.
RAIL ON STAIRS FROM AFT DECK TO BOAT DECK INCREASED IN HEIGHT BY 3 INCHES.
Wood And Finish Description:
AFRICAN MAHOGANY HIGH GLOSS
Color
HULL AND SUPER PAINT STANDARD (ALEXSEAL) CLOUD WHITE, T 9132
BOOT STRIPE (ALEXSEAL) SUPER JET BLACK, T 9232
BOTTOM (SEA HAWK) CUKOTE, BLACK 3445 GL.
Audio Video Description
UPGRADED TV'S THROUGHOUT
KALEIDESCAPE A/V SERVER WITH CONTENT
Additional Electronics:
KALEIDSCAPE A/V SERVER
WIFI AMPLIFIER / REPEATER
ROKU WIRELESS CAPABILITY WHERE WIFI AVAILABLE
GP LINK WIRELESS MONITORING SYSTEM
3 CAMERAS
FUEL FLOW MONITORING SYSTEM
Exclusions
Personal artwork and tools in toolbox.
Disclaimer
The Company offers the details of this vessel in good faith but cannot guarantee or warrant the accuracy of this information nor warrant the condition of the vessel. A buyer should instruct his agents, or his surveyors, to investigate such details as the buyer desires validated. This vessel is offered subject to prior sale, price change, or withdrawal without notice.
This listing is courtesy of the BoatWizard MLS and may be centrally listed with another broker. It is offered as a convenience by this broker/dealer to its clients and is not intended to convey representation of a particular vessel.